Strategic Retail Location
1—Executive Overview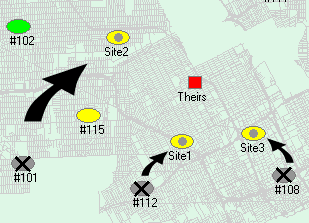 CLEO boxes in the competition's superstore in this scenario, closing 101, 108 and 112 in favour of three new sites. Hypothetical data; real recommendations. You may not want to be quite so predatory. This merely illustrates how CLEO can be programmed.


You have multiple stores in a city. There are competing chains. How do you measure a good location—one that works well on its own, and complements your existing network against the competition?


This is not just about site features such as parking spaces, visibility and signage. It's also about location value. Not just being near a freeway, but freeways from where, carrying whom, when? Taking advantage of which complementary services, playing against which allied and competitive stores, of what size? There are road networks, store attraction measures, congestion and cannibalization to consider. It's about teamwork in a spatial game. This is more than even the most experienced eye can analyze. It's the realm of numerical geospatial analysis and modeling. Specifically, strategic retail location.


And it is precisely why we developed our modeling software and analytical service: Competitive Location Evaluation and Optimization (CLEO). High-stakes property investments and store fortunes ride on assessments of location value.

CLEO is not a retail application built on a GIS. It is a GIS built from the ground up for strategic retail site selection. Going well beyond simple mapping and gravity modeling, CLEO incorporates operations research, financial modeling and decision support.


CLEO's geospatial models consider the distribution of demand, the street configuration, drive time and the attractiveness of shopping alternatives, including the competition. Another set of models lets you look at a myriad of options by shuffling stores around thousands of times and picking the best configuration. The decision support system helps you manage the options and formulate an investment strategy.


You focus on the management questions. We're buying this other chain; how do we rationalize the combined network? Which of the older generation stores are most dispensable? Should they be upgraded? Assess the competition and play what-if games. Protect franchisees against cannibalization.

CLEO does the math and generates the reports. It can even come up with aggressive encircling maneuvers of its own (illustration).

To our knowledge CLEO is the most advanced retail location software available. This is consistent with our record. We were the first to develop location-allocation models for portable computers (1982). The first to model impulsive shopping (1983). We couple expertise in modeling with careful and knowledgeable geographic analysis.